NSTI Fall Course Series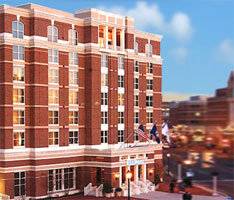 Producing Sponsor
Sponsors
Margaret L. Blohm GE Global Research Leader, Nanotechnology Advanced Technology Program
Margaret was born in Schenectady, New York. She attended Russell Sage College and graduated with a B.S. Degree in Chemistry in 1981. She then received her PhD in Inorganic Chemistry from the University of Minnesota in 1985. After a Post-Doctoral fellowship at the Colorado State University, she joined GE Global Research in Niskayuna in 1987.
She worked on several projects in support of GE Plastics, from 1987 to 1997, when she was named Lab Manager of Weatherables & Special Effects Laboratory. Her team invented, developed and supported the commercialization of LEXAN SLX.
In 2001 she was appointed Leader of the Nanotechnology Advanced Technology Program.
Margaret is married and has two children ages 11 and 8. She enjoys spending her time with her family, particularly gardening, bicycling and volunteering with her children.
Back to Speaker Biographies
Back to NSTI Nano Impact Summit Program