NSTI Fall Course Series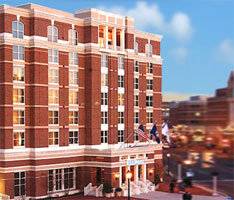 Producing Sponsor
Sponsors
Brent M. Segal Nantero, Inc. Co-founder and Chief Operating Officer
Dr. Brent M. Segal is a Co-founder and Chief Operating Officer of Nantero, a leading Nanotechnology company where he oversees operations roles focusing on partnerships, involving companies such as LSI Logic, BAE Systems and ASM Lithography. He assists Nantero with intellectual property management and government programs involving the Navy and various agencies.
He is an active member of the steering committee of the Massachusetts Nanotechnology Initiative (MNI), executive member of the Massachusetts NanoExchange (MNE) and a member of the New England Nanomanufacturing Center for Enabling Tools (NENCET) Industrial Advisory Board and a member of the planning board for Nanotech 2006. He sits on the Board of Directors of Coretomic, of Burlington, Vermont and ENS Biopolymer, Inc of Cambridge, Massachusetts.
He is an active fundraiser, helping Nantero to raise more than $36 M in three private equity rounds and government programs. He previously ran laboratory operations at Metaprobe LLC, where he also assisted in raising more than $5 M in private equity financing. He was a Research Associate at Nycomed Salutar, Inc. where he secured several new patents involving novel X-ray contrast agents for medical imaging.
He received his PhD in Chemistry from Harvard University in 2000 and has published frequently in journals including Journal of the American Chemical Society, Inorganic Chemistry, and various IEEE publications, including one in which Nantero was named one of the top ten companies for the next ten years. He is frequently invited to speak at conferences and seminars such as COMDEX, NANOTECH 2005 and the annual National Nanotechnology Initiative (NNI) meeting on the topic of nanotechnology intellectual property creation and management to move Nanotechnology from the laboratory to fabrication.
He is co-author of over 50 patents and has worked extensively on intellectual property creation and protection issues at both Nycomed and Metaprobe. He is a graduate of Reed College, with a degree in Biochemistry.
Back to Speaker Biographies
Back to NSTI Nano Impact Summit Program