NSTI Fall Course Series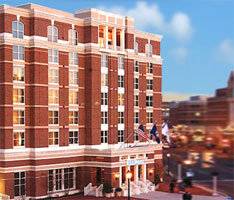 Producing Sponsor
Sponsors
Alan J. Gotcher
Altair Nanotechnologies, Inc.
President and Chief Executive Officer
Dr. Gotcher was appointed CEO in August, 2004 and President in March 2005. Previously, Dr. Gotcher was Chairman and CEO of Nevada-based InDelible Technologies, Inc., and prior to that he spent fourteen years with Avery Dennison, a well known public company in Pasadena, California.
While at Avery Dennison, Dr. Gotcher served as Senior Vice president, Manufacturing & Technology, and Chief Technology Officer. During his tenure Dr. Gotcher led Avery's teams that created and commercialized the Duracell On-Cell tester battery label and pressure sensitive battery labels, which created new business sales in excess of $100 million per year, and the United States Postal Service's self-stick stamp products which created new sales of approximately $100 million per year.
Prior to joining Avery Dennison, Dr. Gotcher was Laboratory Director, U.S. Corporate Research and Development, with Menlo Park, California-based Raychem Corporation where he lead the business development teams that created, developed and commercialized the profitable, conductive polymer-based PolySwitch® over-current protection device business.
Back to Speaker Biographies
Back to NSTI Nano Impact Summit Program