NSTI Fall Course Series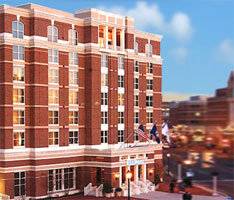 Producing Sponsor
Sponsors
NSTI Nano Impact Summit Speakers
E. Clayton Teague
National Nanotechnology Coordination Office (NNCO)
Directory
H. Kumar Wickramasinghe
IBM Almaden Research Center
Senior Manager, Nanoscale Science and Technology
Patrick T. Spicer
Procter and Gamble Company
Technology Leader, Complex Fluids Research Group
Kenneth A. Dean
Motorola
Member of the Technical Staff,
Embedded Systems and Physical Sciences Corporate Research Laboratory
Margaret L. Blohm
GE Global Research
Leader, Nanotechnology Advanced Technology Program
Richard Brotzman
Nanophase Technologies Corporation
Vice President of Research & Development
Alan J. Gotcher
Altair Nanotechnologies
President and Chief Executive Officer
Joe Lichtenhan
Hybrid Plastics Inc.
President and Chief Executive Officer
Mark Melliar-Smith
Molecular Imprints, Inc.
President and Chief Operating Officer
Brent M. Segal
Nantero, Inc.
Co-founder and Chief Operating Officer
Participating Companies and Agencies Include:
Electronics:

Motorola [NYSE: MOT]: Presenting the first ever Nano Emissive Flat Screen Display. Motorola is a global communications leader that provides seamless mobility products and solutions across broadband, embedded systems and wireless networks.
IBM [NYSE: IBM]: Focuses on research, development and manufacturing of industry's most advanced IT...a Top 10 Company on 2005 Fortune 500 List
Nantero: [Private] Uses carbon nanotubes for development of next-generation semiconductor devices. Raised $31 million. Strategic partners; LSI Logic Corporation, ASML, Brewer Science, Inc., and BAE Systems
Molecular Imprints Inc. [Private]: Next generation imprint lithography, customers include Motorola and Hewlett Packard (HP). Received $36M in NIST-ATP funding for advanced lithography project-partners include UT-Austin, Motorola, KLA Tencor, and Photronics

Materials and Integrated Products:

General Electric [NYSE: GE]: One of the most diversified industrial corporations in the world. Customers in over 100 countries and employs over 300,000 worldwide. Product-linked corporate R&D in nanotechnology
Nanophase [NASDAQ: NANX] Delivers and manufactures nanomaterials solutions to the marketplace. Market partners include BASF, Altana, and Rohm Haas

Hybrid Plastics: [Private] Specializes in the design, manufacture, and application of Nanostructured® Chemical Tools. Market applications include products for the consumer, aerospace, biological, and pharmaceutical industries

Health and Personal Care:

Procter and Gamble [NYSE: PG]: Top U.S. maker of household product. Over 25,000 active patents, employs over 7,500 PhDs and researchers in over 70 countries. Product-linked corporate R&D in nanotechnology
Altair Nanotechnologies [NASDAQ: ALTI]: Altairnano is trademarking name of Altair Technologies. Owns proprietary technology for making nanocrystalline nanoparticles. Product applications include: fuel cells, coatings, paints, cosmetics, drug delivery. Altair's RenaZorb™ represents a second-in-class drug for end-stage renal disease, in animal testing for comparison with Shire Pharmaceuticals' Fosrenol and Genzyme's Renagel™.
Back to NSTI Nano Impact Summit Program